---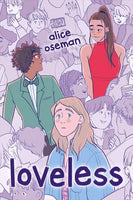 by Alice Oseman
Scholastic Press
3/1/22, hardcover
SKU: 9781338751932
Georgia has parents who are still in love, two sets of grandparents that are still together, and a brother who married his girlfriend, but at eighteen she has never even kissed someone (not even her lesbian best friend, Felipa) or particularly even wanted to; at the prom afterparty she is surrounded by couples making out, and she really does not know what is wrong--but in college she comes to understand herself as asexual/aromantic, and to capture the part of her identity that has always eluded her.

Target age: 13 to 17
About the Author:
Alice Oseman was born in 1994 in Kent, England, and is a full-time writer and illustrator. She is the creator of the popular Heartstopper series, which is now streaming on Netflix as a live-action TV show. Alice is also the author of four YA novels: Solitaire, Radio Silence, I Was Born for This, and Loveless.