---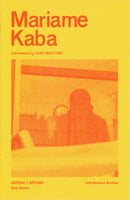 by Mariame Kaba and Josh MacPhee
Interference Archive
1/2023, booklet
SKU: n/a
This zine is part of a series that features transcripts of interviews carried out for the Defend / Defund exhibition at Interference Archive. Each conversation dives into the history of specific struggles with, and organizing against, police and police brutality, including the founding of CopWatch in NYC, the evolution of abolitionism within counter-police organizing, the key organizing role of the families of victims of police violence, the history of Black Nia F.O.R.C.E., and October 22nd Coalition and other early attempts at national organizing in the 1980s and 90s.
Interviews in this series are:
— Mariame Kaba interviewed by Josh MacPhee
— Dennis Flores interviewed by Jen Hoyer
— Dr. Joshua Myers interviewed by Brooke Darrah Shuman
— Dread Scott interviewed by Josh MacPhee
— Occupy City Hall [Jawanza Williams (VOCAL-NY and Free Black Radicals), Cheryl Rivera (NYC-DSA Racial Justice Working Group and Abolition Action), Bianca Cunningham (Free Black Radicals)] interviewed by Brooke Darrah Shuman
About the Contributors:

Mariame Kaba is a leading prison and police abolitionist. She is the founder and director of Project NIA and the co-founder of Interrupting Criminalization. She is the author of the New York Timesbestselling We Do This 'Til We Free Us and co-author (with Andrea J. Ritchie) of No More Police and lives in New York City.
Josh MacPhee is a designer, artist, and archivist. He is a founding member of both the Justseeds Artists' Cooperative and Interference Archive, a public collection of cultural materials produced by social movements based in Brooklyn, NY. MacPhee is the author and editor of numerous publications, including Signs of Change: Social Movement Cultures 1960s to Now and Signal: A Journal of International Political Graphics and Culture. He has organized the Celebrate People's History poster series since 1998 and has been designing book covers for many publishers for the past decade. His most recent book is An Encyclopedia of Political Record Labels, a compendium of information about political music and radical cultural production.