---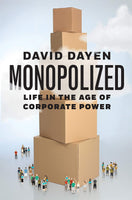 by David Dayden
New Press
7/21/2020
SKU: 9781620975411
From the airlines we fly to the food we eat, how a tiny group of corporations have come to dominate every aspect of our lives--by one of our most intrepid and accomplished journalists.
Over the last forty years our choices have narrowed, our opportunities have shrunk, and our lives have become governed by a handful of very large and very powerful corporations. Today, practically everything we buy, everywhere we shop, and every service we secure comes from a heavily concentrated market.
This is a world where four major banks control most of our money, four airlines shuttle most of us around the country, and four major cell phone providers connect most of our communications. If you are sick you can go to one of three main pharmacies to fill your prescription, and if you end up in a hospital almost every accessory to heal you comes from one of a handful of large medical suppliers.
Dayen, the editor of the American Prospect and author of the acclaimed Chain of Title, provides a riveting account of what it means to live in this new age of monopoly and how we might resist this corporate hegemony.
Through vignettes and vivid case studies Dayen shows how these monopolies have transformed us, inverted us, and truly changed our lives, at the same time providing readers with the raw material to make monopoly a consequential issue in American life and revive a long-dormant antitrust movement.
Reviews:
"If you're looking for a book... that will get your heart pumping and your blood boiling and that will remind you why we're in these fights--add this one to your list." -- Senator Elizabeth Warren
"A superb book about the rise and rise of monopolies... If telling this kind of complicated, technical story and making it personal and urgent is an art, then Dayen is an artist." -- Cory Doctorow, author of Walkaway and Little Brother
"Monopolized is eye-opening, disturbing, and brilliant... It is one of those before and after books: before you read it, you may have vague sense that monopolies are a problem in a few areas; afterwards, you will see them everywhere... Dayen is a great journalist, a vivid storyteller and his flashes of dark humor light up the pages." -- Zephyr Teachout, associate law professor, Fordham University, and author of Break 'Em Up: Recovering Our Freedom from Big Ag, Big Tech, and Big Money
About the Author:
David Dayen writes regularly for The Intercept and The Nation and has just been appointed the editor of the American Prospect. He is the author of Chain of Title, winner of the Studs and Ida Terkel Prize for a first book in the public interest. Dayen lives in Venice, California.