---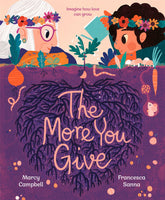 by Macy Campbell, illustrated by Francesca Sanna
Alfred A. Knopf Books
8/2/2022, hardcover
SKU: 9780593372739
A modern-day response to The Giving Tree, this lyrical picturebook shows how a family passes down love from generation to generation, leaving a legacy of growing both trees and community.
Once there was a wide-open field, and a boy who loved his grandmother, who loved him back.
The boy's grandmother gives him many gifts, like hugs, and Sunday morning pancakes, and acorns with wild and woolly caps. And all her wisdom about how things grow. As the boy becomes a father, he gives his daughter bedtime stories his grandmother told him, and piggyback rides. He gives her acorns, and the wisdom he learned about how things grow. His daughter continues the chain, then passing down gifts of her own. Here is a picture book about the legacy of love that comes when we nurture living things--be they people or trees.
Target age: 4 to 8
Reviews:
"A book to give and to share with loved ones." -- Kirkus Reviews
"Beautiful illustrations [and] moving and poetic prose." -- Entertainment Weekly
"A lovely and gentle musing about familial continuity, community support, and the importance of perseverance and kindness." -- School Library Journal
About the Contributors:
Marcy Campbell's debut picture book, Adrian Simcox Does NOT Have a Horse! was a Junior Library Guild Selection, a Top 10 Indie Next Pick, Winner of the Comstock Read Aloud Award, and the Crystal Kite Award, and was translated into eight languages. She is also the author of the middle grade novel Rule of Threes as well as the picture book Something Good, illustrated by Corinna Luyken. Marcy lives in Ohio with her family. 
Francesca Sanna is an illustrator and children's book author, whose books include the critically acclaimed The Journey, for which she received both an Ezra Jack Keats New Author Honor and New Illustrator Honor Award. Her other books include Me and My Fear and My Friend Earth. The New York Times has described her work as both realistic and fantastical, done in a striking, graphic style. Francesca is a recipient of the Society of Illustrators Gold Medal, the Parents' Choice Awards Gold Medal, and an Amnesty CILIP Kate Greenaway Honour, among others. She lives in Zurich, Switzerland.