---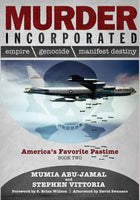 by Mumia Abu-Jamal and Stephen Vittoria
Prison Radio
3/22/2019, paperback
SKU: 9780998960067
Just as the lives of slaves and Indigenous peoples paid for the early growth of the new American nation, so too were lives sacrificed to advance the expansion of empire in the 20th century. Book Two in this epic three-part series is a damning account of war--and the selling of war in America--revealing how riches, imperial expansion, and the consolidation of power have been the true aim of American wars and covert actions, both at home and abroad. The seeds of exceptionalism and divine entitlement, whose planting is detailed in Book One: Dreaming of Empire, yield Book Two: America's Favorite Pastime and the nightmarish side of the American Century.
About the Contributors:
Mumia Abu-Jamal is an award-winning journalist. He spent more than 28 years on death row for allegedly killing a white police officer in Philadelphia. Despite his three-decade imprisonment, most of which was spent in solitary confinement on Death Row, Abu-Jamal has relentlessly fought for his freedom and for his profession. He is the author of nine books, including Death Blossoms and Live from Death Row, and thousands of radio commentaries.
Stephen Vittoria is a film director and producer. His documentary films include Long Distance Revolutionary: A Journey with Mumia Abu-Jamal and One Bright Shining Moment: The Forgotten Summer of George McGovern. He lives in Los Angeles, California.