---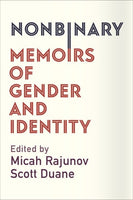 Edited by Micah Rajunov and Scott Duane
Columbia University Press
4/9/2019, paperback
SKU: 9780231185332
What happens when your gender doesn't fit neatly into the categories of male or female? Even mundane interactions like filling out a form or using a public bathroom can be a struggle when these designations prove inadequate. In this groundbreaking book, thirty authors highlight how our experiences are shaped by a deeply entrenched gender binary.
The powerful first-person narratives of this collection show us a world where gender exists along a spectrum, a web, a multidimensional space. Nuanced storytellers break away from mainstream portrayals of gender diversity, cutting across lines of age, race, ethnicity, ability, class, religion, family, and relationships. From Suzi, who wonders whether she'll ever "feel" like a woman after living fifty years as a man, to Aubri, who grew up in a cash-strapped fundamentalist household, to Sand, who must reconcile the dual roles of trans advocate and therapist, the writers' conceptions of gender are inextricably intertwined with broader systemic issues. Labeled gender outlaws, gender rebels, genderqueer, or simply human, the voices in Nonbinary illustrate what life could be if we allowed the rigid categories of "man" and "woman" to loosen and bend. They speak to everyone who has questioned gender or has paused to wonder, What does it mean to be a man or a woman--and why do we care so much?
Reviews:
"Nonbinary is a great book--timely, wide-ranging, interesting, readable, and relatable. This will be a great primer for parents, teachers, doctors, and anyone else who wants to understand the nonbinary community." --Jen Manion, Amherst College
"This book is beyond vital. It is the anthology I've always yearned for, but never realized could be real. Nonbinary blows open the core of the thing, goes straight for the heart, burrows deep and then some. In a world that insists trans and nonbinary people adopt consistent, easy-to-digest messaging about who we are, this anthology stands bravely above the noise, boldly declaring our multiplicity as our beauty, our contradiction as our multifaceted shimmer." --Jacob Tobia, author of Sissy: A Coming-of-Gender Story
"Nonbinary is a beautiful collection, filled with moving and personal stories from life outside the binary. Reading it felt like coming home to a community I'd always longed for. Folks from all across the gender spectrum should dive into these gorgeous insights and revelations about living a life of authenticity." --Jill Soloway, creator of Transparent
About the Editors:
Micah Rajunov is a writer, researcher, and advocate. Since 2011, Micah has created community resources for nonbinary identities through the site genderqueer.me. Micah's personal transition story has been featured in mainstream publications as well as a full-length documentary.
Scott Duane is an author, advocate, and queer trans man who has been an accidental activist for nearly a decade. He devotes his efforts to creating resources and spaces where trans voices can be heard.