---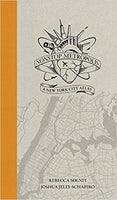 by Rebecca Solnit and Joshua Jelly-Schapiro
University of California Press
10/19/2016, paperback
SKU: 9780520285958
Winner of the 2017 Brendan Gill Prize from the Municipal Arts Society of New York

Nonstop Metropolis, the culminating volume in a trilogy of atlases, conveys innumerable unbound experiences of New York City through twenty-six imaginative maps and informative essays. Bringing together the insights of dozens of experts--from linguists to music historians, ethnographers, urbanists, and environmental journalists--amplified by cartographers, artists, and photographers, it explores all five boroughs of New York City and parts of nearby New Jersey. We are invited to travel through Manhattan's playgrounds, from polyglot Queens to many-faceted Brooklyn, and from the resilient Bronx to the mystical kung fu hip-hop mecca of Staten Island. The contributors to this exquisitely designed and gorgeously illustrated volume celebrate New York City's unique vitality, its incubation of the avant-garde, and its literary history, but they also critique its racial and economic inequality, environmental impact, and erasure of its past. Nonstop Metropolis allows us to excavate New York's buried layers, to scrutinize its political heft, and to discover the unexpected in one of the most iconic cities in the world. It is both a challenge and homage to how New Yorkers think of their city, and how the world sees this capital of capitalism, culture, immigration, and more.

Contributors: Sheerly Avni, Gaiutra Bahadur, Marshall Berman, Joe Boyd, Will Butler, Garnette Cadogan, Thomas J. Campanella, Daniel Aldana Cohen, Teju Cole, Joel Dinerstein, Paul La Farge, Francisco Goldman, Margo Jefferson, Lucy R. Lippard, Barry Lopez, Valeria Luiselli, Suketu Mehta, Emily Raboteau, Molly Roy, Sharifa Rhodes-Pitts, Luc Sante, Heather Smith, Jonathan Tarleton, Astra Taylor, Alexandra T. Vazquez, Christina Zanfagna
Interviews with: Valerie Capers, Peter Coyote, Grandmaster Caz, Grand Wizzard Theodore, Melle Mel, RZA
Reviews:
"I am thrilled to have another book-object in this series, as I devoured the San Francisco volume when I was there, and the New Orleans one likewise. Now finally here is one about the town where I live. The format, with the maps, networks, and accompanying stories and histories, is a lovely, nonlinear way of mirroring the almost infinite layers that make up a city. We all have our own mental maps of our cities and the ones we visit--maps that are, like the ones here, historical, musical, temporal, personal, economic, and geographical. The maps in Nonstop Metropolis are a good approximation of how we New Yorkers experience and perceive the city we live in."--David Byrne

"Put your map apps and your GPS away, because none of those high-tech innovations will lead you to the immense satisfaction that this hard-to-put-down book is full of. The unique, clever, and artistic maps give you the who, what, when, and, most importantly, where of loads of unusual and little-known New York City histories. As a New York City native I finally have all the maps I need to the treasures and secrets of my hometown."--Fab 5 Freddy

"A new way to think about the cultural and political life of cities."--Randy Kennedy, New York Times

"Solnit, well known for her writing on politics, art and feminism, has turned her attention to New York City's complexities in Nonstop Metropolis , the third of her trilogy of atlases and accompanying exhibitions."--Alex Rayner, The Guardian
Authors:
Rebecca Solnit is a prolific writer, and the author of many books including Savage Dreams, Storming the Gates of Paradise, and the best-selling atlases Infinite City and Unfathomable City, all from UC Press. She received the Corlis Benefideo Award for Imaginative Cartography from the North American Cartographic Information Society for her work on the previous atlases.
Joshua Jelly-Schapiro is a geographer and writer whose work has appeared in The New York Review of Books, New York, Harper's, and the Believer, among many other publications. He is the author of Island People: The Caribbean and the World.