---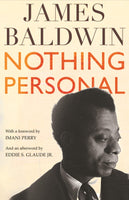 by James Baldwin
Beacon Press
5/4/2021, hardcover
SKU: 9780807006429
James Baldwin's critique of American society at the height of the civil rights movement brings his prescient thoughts on social isolation, race, and police brutality to a new generation of readers.
Available for the first time in a stand-alone edition, Nothing Personal is Baldwin's deep probe into the American condition. Considering the Black Lives Matter protests in the summer of 2020--which were met with tear gas and rubber bullets the same year white supremacists entered the US Capitol with little resistance, openly toting flags of the Confederacy--Baldwin's documentation of his own troubled times cuts to the core of where we find ourselves today.
Baldwin's thoughts move through an interconnected range of questions, from America's fixation on eternal youth, to its refusal to recognize the past, its addiction to consumerism, and the lovelessness that fuels it in its cities and popular culture. He recounts his own encounter with police in a scene disturbingly similar to those we see today documented with ever increasing immediacy. This edition also includes a new foreword from interdisciplinary scholar Imani Perry and an afterword from noted Baldwin scholar Eddie S. Glaude Jr. Both explore and situate the essay within the broader context of Baldwin's work, the Movement for Black Lives, the COVID-19 pandemic, and the presidency of Donald Trump.
Nothing Personal is both a eulogy and a declaration of will. In bringing this work into the twenty-first century, readers new and old will take away fundamental and recurring truths about life in the US. It is both a call to action, and an appeal to love and to life.
Reviews:
"In this short, stunning work, with his inimitable use of language, Baldwin distills the essence of his pain and wisdom and points a way for our own time." -- New York Journal of Books
About the Contributors:
James Baldwin (1924-1987) was a novelist, essayist, playwright, poet, and social critic, and one of America's foremost writers. His writing explores palpable yet unspoken intricacies of racial, sexual, and class distinctions in Western societies, most notably in mid-20th-century America. A Harlem, New York, native, he lived periodically in exile in the south of France and in Turkey. He is the author of several novels and books of nonfiction, including Notes of a Native Son, Go Tell It on the Mountain, Giovanni's Room, Another Country, Tell Me How Long the Train's Been Gone, If Beale Street Could Talk, Just Above My Head, The Fire Next Time, No Name in the Street, and The Evidence of Things Not Seen, and of the poetry collection Jimmy's Blues.
Imani Perry is the Hughes-Rogers Professor of African American Studies at Princeton University. Her books include Breathe and Looking for Lorraine.  
Eddie S. Glaude Jr. is the James S. McDonnell Distinguished University Professor at Princeton University. His books include Begin Again and Democracy in Black.