---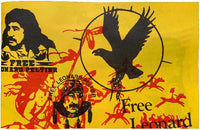 by Josh MacPhee
Justseeds
October 2019
In March 2019, I got to dig deep into the Anarchist Archive at the University of Victoria in Victoria, British Columbia. The archive was convened by Allan Antliff, who works with librarians to maintain, organize, annotate, and build the collection. There was a ton of great stuff I found, but I was drawn to a series of folders containing materials connected to the campaign to free U.S. political prisoner Leonard Peltier. One of the main attractions was the re-purposing and reuse of a standard set of symbols and logos by his supporters. These evolved, warped, and changed over time, largely because as they were physically cut out, copied, and pasted down onto flier after flier, they degraded, stretched, were drawn back into, etc. I photographed about fifty of these images, and have chaotically reorganized them here, in part in an attempt to capture some of the sense of movement and engagement of the source material.
Leonard Peltier is one of the last remaining political prisoners in the U.S. originally locked up as part of the repression of the political movements of the 1960s and 70s. He has spent over 40 years in prison, even after it has been shown that the FBI planted evidence, manufactured witnesses, and lied in court.
Author:
Josh MacPhee is a designer, artist, and archivist. He is a founding member of both the Justseeds Artists' Cooperative and Interference Archive, a public collection of cultural materials produced by social movements based in Brooklyn, NY. MacPhee is the author and editor of numerous publications, including Signs of Change: Social Movement Cultures 1960s to Now and Signal: A Journal of International Political Graphics and Culture. He has organized the Celebrate People's History poster series since 1998 and has been designing book covers for many publishers for the past decade. His most recent book is An Encyclopedia of Political Record Labels (Common Notions, 2019), a compendium of information about political music and radical cultural production.