---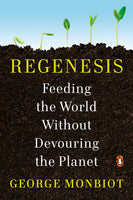 by George Monbiot
Penguin Books
8/2/2022, paperback
SKU: 9780143135968
For the first time since the Neolithic, we have the opportunity to transform not only our food system but our entire relationship to the living world.
Farming is the world's greatest cause of environmental destruction – and the one we are least prepared to talk about. We criticise urban sprawl, but farming sprawls across thirty times as much land. We have ploughed, fenced and grazed great tracts of the planet, felling forests, killing wildlife, and poisoning rivers and oceans to feed ourselves. Yet millions still go hungry.
Now the food system itself is beginning to falter. But, as George Monbiot shows us in this brilliant, bracingly original new book, we can resolve the biggest of our dilemmas and feed the world without devouring the planet. 
Regenesis is a breathtaking vision of a new future for food and for humanity. Drawing on astonishing advances in soil ecology, Monbiot reveals how our changing understanding of the world beneath our feet could allow us to grow more food with less farming. He meets the people who are unlocking these methods, from the fruit and vegetable grower revolutionising our understanding of fertility; through breeders of perennial grains, liberating the land from ploughs and poisons; to the scientists pioneering new ways to grow protein and fat. Together, they show how the tiniest life forms could help us make peace with the planet, restore its living systems, and replace the age of extinction with an age of regenesis. 
Reviews:
"How can we ensure that everyone is fed without destroying the biosphere? Regenesis is a lively and deeply researched enquiry that confronts our dilemmas head on. There are no easy answers, but Monbiot provides a brilliant guide to asking the right questions. Transformation is urgently needed and this book shows how it is possible." —Merlin Sheldrake, internationally bestselling author of Entangled Life
"A brilliant, mesmerizing, vital book. Beneath each square meter of soil live thousands of species, and each chapter of George Monbiot's eye-opening exploration of that soil and its potential is similarly, dynamically rich-delivering a whole new way of thinking about our agriculture and our diets, our climate and our future. And much needed hope, besides." —David Wallace-Wells, New York Times bestselling author of The Uninhabitable Earth
About the Author:
George Monbiot is an author, environmental campaigner, Guardian columnist and recipient of the 2022 Orwell Prize for journalism.. His best-selling books include Feral: Rewilding the Land, Sea and Human Life and Heat: How We Can Stop the Planet Burning; his latest is Regenesis: Feeding the World without Devouring the Planet. George cowrote the concept album Breaking the Spell of Loneliness with musician Ewan McLennan, and has made a number of viral videos. One of them, adapted from his 2013 TED talk, How Wolves Change Rivers, has been viewed on YouTube over 40 million times. Another, on Natural Climate Solutions, which he co-presented with Greta Thunberg, has been watched over 60 million times.