---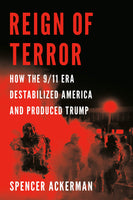 by Spencer Ackerman
Penguin Books

8/9/2022, paperback

SKU: 9781984879790
An examination of the profound impact that the War on Terror had in pushing American politics and society in an authoritarian direction
For an entire generation, at home and abroad, the United States has waged an endless conflict known as the War on Terror. In addition to multiple ground wars, it has pioneered drone strikes and industrial-scale digital surveillance, as well as detaining people indefinitely and torturing them. These conflicts have yielded neither peace nor victory, but they have transformed America. What began as the persecution of Muslims and immigrants has become a normalized, paranoid feature of American politics and security, expanding the possibilities for applying similar or worse measures against other targets at home. A politically divided country turned the War on Terror into a cultural and then tribal struggle, first on the ideological fringes and ultimately expanding to conquer the Republican Party, often with the timid acquiescence of the Democratic Party. Today's nativist resurgence walked through a door opened by the 9/11 era.
Reign of Terror shows how these policies created a foundation for American authoritarianism and, though it is not a book about Donald Trump, it provides a critical explanation of his rise to power and the sources of his political strength. It shows that Barack Obama squandered an opportunity to dismantle the War on Terror after killing Osama bin Laden. That mistake turns out to have been portentous. By the end of his tenure, the war metastasized into a broader and bitter culture struggle in search of a demagogue like Trump to lead it.
A union of journalism and intellectual history, Reign of Terror is a pathbreaking and definitive book with the power to transform how America understands its national security policies and their catastrophic impact on its civic life.
Reviews:
"An impressive combination of diligence and verve, deploying Ackerman's deep stores of knowledge as a national security journalist to full effect. The result is a narrative of the last 20 years that is upsetting, discerning and brilliantly argued." -- The New York Times
"In the genre of books that seek to explain why we are in the mess we are in, Reign of Terror is a formidable entry. To those who want to portray Trump as wholly exceptional, and discontinuous with the recent past, the book is an essential corrective." -- The New Republic
"Spencer Ackerman's brilliant, discerning Reign of Terror initiates the urgent process of truth and reconciliation with the ugly facts of a 'War on Terror' that condemned a young 21st century America to the darkness of a surveillance society driven by the militarization of everyday life and dependent upon surveillance capitalism for pervasive monitoring and control of people. Ackerman is at the top of his game, revealing with vivid detail, investigative force, and unswerving moral clarity how the reign of terror rained on us, replacing freedom with fear and neighborliness with suspicion, as it poisoned cherished principles, diminished rights, and weakened democratic institutions. Every citizen and lawmaker yearning for a joyful inclusive democratic future must confront this toxic legacy and its chokehold on our expectations and our politics. That journey begins here with this courageous, necessary book." -- Shoshana Zuboff, author of The Age of Surveillance Capitalism and Professor Emeritus, Harvard Business School
"Ackerman's Reign of Terror is breathtaking and essential. By connecting the threads of American exceptionalism, white supremacy and the War on Terror, Ackerman's book provides an invaluable lens to understanding the post-9/11 era, and the United States' violent embrace of torture, endless war and military occupations, presidential drone assassination hit-lists, and global mass surveillance." -- Laura Poitras, Academy Award and Pulitzer-winning filmmaker and journalist

About the Author:
Spencer Ackerman has been a national-security correspondent for outlets like The New Republic, WIRED, The Guardian and currently The Daily Beast. He has reported from the frontlines of Afghanistan, Iraq, and Guantanamo Bay. He shared in the 2014 Pulitzer Prize for Public Service Journalism for Edward Snowden's NSA leaks to The Guardian, a series of stories that also yielded him other awards, including the Scripps Howard Foundation's 2014 Roy W. Howard Award for Public Service Reporting and the 2013 IRE medal for investigative reporting. Ackerman's WIRED series on Islamophobic counterterrorism training at the FBI won the 2012 online National Magazine Award for reporting. He frequently appears on MSNBC, CNN, and other news networks.