---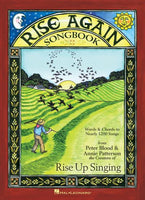 Edited by Peter Blood and Annie Patterson
Hal Leonard Publishing Corporation
9/1/2015, spiral
SKU: 9781495031236
This 2015 sequel to Rise Up Singing contains words & chords to 1200 different songs than the original. 
Not your average fake book! Great for musicians, camps, teachers or for singing with family and friends. This songbook is a treasure trove of well-loved songs from blues, country, jazz and Motown to composed folk, traditional ballads, gospel and rounds.
Using the same unique format as the editors' best-selling songbook, Rise Up Singing, Rise Again provides easy access to 1200 important songs in a compact, affordable collection. Including extensive liner notes and well-organized indices, this is an important resource for anyone who loves music.
About the Editors:
Peter Blood and Annie Patterson have over 25 years of experience in song-leading at conferences and gatherings using Rise Up Singing throughout the United States, Canada, and Australia. They both live in Cheney, Pennsylvania.