---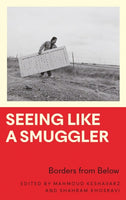 by Mahmoud Keshavarz and Shahram Khosravi
Pluto Press
7/20/2022, paperback
SKU: 9780745341613
Stories of smuggling as acts of resistance and decolonization.

The word smuggler often unleashes a simplified, negative image painted by the media and the authorities. Such state-centric perspectives hide many social, political, and economic relations generated by smuggling. This book looks at the practice through the eyes of the smugglers, revealing how their work can be productive, subversive, and deeply sociopolitical.
By tracing the illegalized movement of people and goods across borders, Seeing Like a Smuggler shows smuggling as a contradiction within the nation-state system, and in a dialectical relation with the national order of things. It raises questions about how smuggling engages and unsettles the ethics, materialities, visualities, histories, and the colonial power relations that form borders and bordering.
Covering a wide spectrum of approaches from personal reflections and ethnographies to historical accounts, cultural analysis, and visual essays, the book spans the globe from Colombia to Ethiopia, Singapore to Guatemala, Afghanistan to Zimbabwe, and from Kurdistan to Bangladesh, to show how people deal with global inequalities and the restrictions of poverty and immobility.
Reviews:
"This conceptually vivid book refreshes our vision. We can see how vulnerable people combine, innovate, and revise what they do to make geography from below. There, at the margins, is life in rehearsal." -- Ruth Wilson Gilmore, author of Abolition Geography: Essays Towards Liberation
"At last, an urgent and brilliant collection of histories 'from below', about the people and goods transgressing the borders of global capitalism. The world economy will never look quite the same." -- Marcus Rediker, co-author of The Many-Headed Hydra: The Hidden History of the Revolutionary Atlantic
About the Authors:
Mahmoud Keshavarz is Senior Lecturer in Design Studies at the University of Gothenburg. He is the author of The Design Politics of the Passport. He co-edits the journal Design and Culture.
Shahram Khosravi is Professor in Anthropology at Stockholm University. He is the author of Young and Defiant in Tehran, which was highly recommended by Choice. He has also contributed to publications such as The New York Times.