---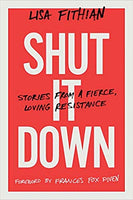 by Lisa Fithian
Chelsea Green Publishing
9/3/2019, paperback
SKU: 9781603588843
For decades, Lisa Fithian's work as an advocate for civil disobedience and nonviolent direct action has put her on the frontlines of change. Described by Mother Jones as "the nation's best-known protest consultant," Fithian has supported countless movements including the Battle of Seattle in 1999, rebuilding and defending communities following Hurricane Katrina, Occupy Wall Street, and the uprisings at Standing Rock and in Ferguson. For anyone who wants to become more active in resistance or is just feeling overwhelmed or hopeless, Shut It Down offers strategies and actions you can take right now to promote justice and incite change in your own community.In Shut It Down Fithian shares historic, behind-the-scenes stories from some of the most important people-powered movements of the past several decades. She shows how movements that embrace direct action have always been, and continue to be, the most radical and rapid means for transforming the ills of our society. Shut It Down is filled with instructions and inspiration for how movements can evolve as the struggle for social justice continues in the Trump era and beyond.While recognizing that electoral politics, legislation, and policy are all important pathways to change, Shut It Down argues that civil disobedience is not just one of the only actions that remains when all else fails, but a spiritual pursuit that protects our deepest selves and allows us to reclaim our humanity. Change can come, but only if we're open to creatively, lovingly, and strategically standing up, sometimes at great risk to ourselves, to protect what we love.
Reviews:
"Shut It Down is an annotated travelogue of a lifetime of resistance, full of the nitty-gritty of real movements: deep strategy and think-on-your-feet decisions, friendships and alliances, best practices, worst mistakes and key lessons, real life exhaustion, and the exhilarating, world-changing power of fighting back. It's jam-packed with tips for a journey we all need to take, shared through detailed and richly personal stories that transform the ideas of struggle into usable muscle memory." --Aurora Levins Morales, author of Medicine Stories
"Shut It Down traces the course of radical resistance in the United States through Lisa Fithian's astounding experiences sowing the seeds of struggle. Rather than analyzing protest movements from afar, Fithian brings her readers into the streets in this essential chronicle of direct action from below." --Mark Bray, historian, Dartmouth College; author of Antifa
"Lisa Fithian is a treasure to social justice movements in the United States and an inspiration to all who have been touched by her energy and commitment. From workers' struggles to Occupy Wall Street, from the Battle of Seattle to the Katrina disaster, Lisa has been there--teaching, leading, following, and building a toolbox for direct action. In Shut It Down, Lisa brings the past four decades of activism alive with dynamic storytelling skills that allow the reader to relive those moments and know that they, too, can pick up the banner and run with it." --Roxanne Dunbar-Ortiz, author of An Indigenous Peoples' History of the United States and Loaded
"Ready to rise up and shut down injustice? You can find no better guide than this dynamic collection of stories and lessons from powerhouse organizer Lisa Fithian. This brilliant book, a vital addition to every resister's library, will take you right to the frontlines of some of the boldest and most consequential protest campaigns of the last four decades, leaving you with everything from nuts-and-bolts tactical tips to frameworks for deep strategic thinking." --L.A. Kauffman, author of Direct Action
"Based on lessons of struggle over the past few decades, Shut It Down is one of the best guides to, and reflections on, social transformation that I have ever read. It is both deeply profound and educative, direct and unpretentious. Everyone, whether experienced or new to wanting to change the world, needs to read and share it." --Marina Sitrin, author of Everyday Revolutions
Author:
Lisa Fithian is an anti-racist organizer who has worked for justice since the 1970s. Using creative, strategic nonviolent direct action and civil disobedience, she has won many battles and trained tens of thousands of activists while participating in a range of movements and mobilizations, including Occupy Wall Street, anti-WTO and corporate globalization protests all over the world, the climate justice movement, and more. Lisa enjoys walking, playing with children, gardening, cooking great food, being in the wild, and raising up new generations to be agents of change. She is grateful to play her part in manifesting a world rooted in respect, justice, and liberation.