---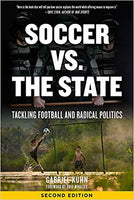 by Gabriel Kuhn
PM Press
2/1/2019, paperback
SKU: 9781629635729
Soccer has turned into a multi-billion-dollar industry. Professionalism and commercialization dominate its global image. Yet the game retains a rebellious side, maybe more so than any other sport co-opted by moneymakers and corrupt politicians. From its roots in working-class England to political protests by players and fans, and a current radical soccer underground, the notion of football as the "people's game" has been kept alive by numerous individuals, teams, and communities.
This book not only traces this history but also reflects on common criticisms—that soccer ferments nationalism, serves right-wing powers, and fosters competitiveness—exploring alternative perspectives and practical examples of egalitarian DIY soccer. Soccer vs. the State serves both as an orientation for the politically conscious football supporter and as an inspiration for those who try to pursue the love of the game away from televisions and big stadiums, bringing it to back alleys and muddy pastures.
This second edition has been expanded to cover events of recent years, including the involvement of soccer fans in the Middle Eastern uprisings of 2011–2013, the FIFA scandal of 2015, and the 2017 strike by the Danish women's team.
Reviews:
"Kuhn is impressive in his global and historical scope, and in acknowledging gender and sexuality questions as well as those of class and race, as he looks at issues ranging from the exploitation of African players to the way the World Cup has been abused politically." — Tom Davies, When Saturday Comes
"Both the politics and the prose of Soccer vs. the State are clear. The view is internationalist, and the breadth of subjects covered makes the book useful for both football fans and activists." — Daniel Widener, Radical History Review
"There is no sport that reflects the place where sports and politics collide quite like soccer. Athlete-activist Gabriel Kuhn has captured that by going to a place where other sports writers fear to tread. Here is the book that will tell you how soccer explains the world while offering means to improve it." — Dave Zirin, author of Game Over and Brazil's Dance with the Devil

About the Author:
Gabriel Kuhn is an Austrian-born author and translator living in Stockholm, Sweden. He is a former semiprofessional soccer player and a board member of the community sports club 17 SK. His books include Playing as If the World Mattered, Soccer vs. the State: Tackling Football and Radical Politics, Life Under the Jolly Roger, Antifascism, Sports, Sobriety and Turning Money Into Rebellion.