---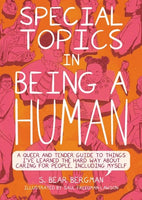 by S. Bear Bergman, illustrated by Saul Freedman-Lawson
Arsenal Pulp Press
10/12/2021, paperback
SKU: 9781551528540
As an author, educator, and public speaker, S. Bear Bergman has documented his experience as, among other things, a trans parent, with wit and aplomb. He also writes the advice column "Ask Bear," in which he answers crucial questions about how best to make our collective way through the world.
Featuring disarming illustrations by Saul Freedman-Lawson, Special Topics in Being a Human elaborates on "Asking Bear"'s premise: a gentle, witty, and insightful book of practical advice for the modern age. It offers Dad advice and Jewish bubbe wisdom, all filtered through a queer lens, to help you navigate some of the complexities of life--from how to make big decisions or make a good apology, to how to get someone's new name and pronouns right as quickly as possible, to how to gracefully navigate a breakup. With warmth and candor, Special Topics in Being a Human calls out social inequities and injustices in traditional advice-giving, validates your feelings, asks a lot of questions, and tries to help you be your best possible self with kindness, compassion, and humor.
Reviews:
"Sweet, soulful, and deeply humane. Bear at his best." -- Alison Bechdel, author of Fun Home, The Secret to Superhuman Strength, and The Essential Dykes to Watch Out For

"I've been receiving nothing but good life advice from S. Bear Bergman for just about thirty years now. With this book on your shelf, so can you. At every crossroad in your life, you'll have loving guidance from a smart, kind big brother, a fun and funny uncle, and a best-ever daddy." -- Kate Bornstein, author of Gender Outlaw
"S. Bear Bergman is the fantastic gay uncle you always wished you had, ready and able to help steer you - with gentle pragmatism and good humor - toward being a better, kinder, more compassionate and thoughtful human being. Heaven knows we could all use it." -- Hanne Blank, author of Straight: The Surprisingly Short History of Heterosexuality
About the Contributors:
S. Bear Bergman is a writer, storyteller, activist, and the founder and publisher of the book press Flamingo Rampant, which makes feminist, culturally diverse children's picture books about LGBT2Q+ kids and families. He writes creative non-fiction for grown-ups, fiction for children, resolutely factual features for various publications, and the advice column "Asking Bear." His books include The Nearest Exit May Be Behind Us and Blood, Marriage, Wine & Glitter, and he was the co-editor along with Kate Bornstein of Gender Outlaws: The Next Generation.
Saul Freedman-Lawson is an illustrator, student, zine-maker, babysitter, and educator. He makes art about queerness, transness, Judaism, and childhood. His comic Naturally is forthcoming from Old Growth Press. He likes to draw excitingly gendered people with big noses. This is his first full-length book.