---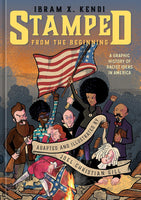 by Ibram X. Kendi and Joel Christian Gill
Ten Speed Graphic
6/6/2023, hardcover
SKU: 9781984859433
A striking graphic novel edition of the National Book Award-winning history of how racist ideas have shaped American life--from the #1 New York Times bestselling author of How to Be an Antiracist.
Racism has persisted throughout history--but so have antiracist efforts to dismantle it. Through deep research and a gripping narrative that illuminates the lives of five key American figures, preeminent historian Ibram X. Kendi reveals how understanding and improving the world cannot happen without identifying and facing the racist forces that shape it.
In collaboration with award-winning historian and comic artist Joel Christian Gill, this stunningly illustrated graphic-novel adaptation of Dr. Kendi's groundbreaking Stamped from the Beginning explores, with vivid clarity and dimensionality, the living history of America, and how we can learn from the past to work toward a more equitable, antiracist future.
Reviews:
"This is an unvarnished, unapologetic, unflinching, and appropriately snarky tale of the mess we are in." -- W. Kamau Bell, Emmy award-winning executive producer, New York Times bestselling author, and comedian

"An essential new approach to understanding centuries of systemic power dynamics throughout our society, from our shared history to possible futures." -- Nate Powell, award-winning cartoonist of the March trilogy and Save It for Later
"A book that educates and entertains in a way that makes it an indispensable teaching tool, while simultaneously establishing Gill is a master of this medium." -- David F. Walker, author of The Black Panther Party: A Graphic Novel History
"Engaging, educational, and wryly funny at times, this graphic adaptation of Dr. Ibram X. Kendi's Stamped from the Beginning provides a heartfelt and hard-hitting look at American history that works as a primer for younger readers without underestimating their experience with racism or their capacity to make the world a better place. Joel Christian Gill's illustrations make the past feel more concrete and give readers of all ages a new way to connect to the material." -- Mikki Kendall, author of Hood Feminism and Amazons, Abolitionists, and Activists
About the Author:
Dr. Ibram X. Kendi is the Andrew W. Mellon Professor in the Humanities at Boston University, and the founding director of the BU Center for Antiracist Research. He is a contributing writer at The Atlantic. Dr. Kendi is the author of Stamped from the Beginning: The Definitive History of Racist Ideas in America, which won the National Book Award for Nonfiction, making him the youngest winner of that award. He also produced five #1 New York Times bestsellers, including How to Be an Antiracist, Antiracist Baby, and Stamped: Racism, Antiracism, and You, co-authored by Jason Reynolds. In 2020, Time magazine named Dr. Kendi one of the 100 most influential people in the world. He was awarded a 2021 MacArthur Fellowship, popularly known as the Genius Grant.
Joel Christian Gill is the Chair of the MFA in Visual Narrative at Boston University. He is a cartoonist and historian who speaks nationally on the importance of sharing stories. He is the author of the acclaimed memoir Fights: One Boy's Triumph Over Violence, cited as one of the best graphic novels of 2020 by The New York Times and for which he was awarded the 2021 Cartoonist Studio Prize. He wrote the words and drew the pictures for Fast Enough: Bessie Stringfield's First Ride and the award-winning graphic novel series Strange Fruit: Uncelebrated Narratives from Black History, and Tales of The Talented Tenth, which tell the stories of Bass Reeves, Bessie Stringfield, and Robert Smalls.