---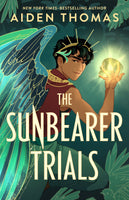 by Aiden Thomas
Feiwel & Friends
9/6/2022, hardcover
SKU: 9781250822130
As each new decade begins, the Sun's power must be replenished so that Sol can keep traveling along the sky and keep the chaotic Obsidian gods at bay. Sol selects ten of the most worthy semidioses to compete in the Sunbearer Trials. The winner carries light and life to all the temples of Reino del Sol, but the loser has the greatest honor of all--they will be sacrificed to Sol, their body melted down to refuel the Sun Stones, protecting the world for another ten years.

Teo, a seventeen-year-old Jade semidiós and the trans son of the goddess of birds, isn't worried about the Trials . . . at least, not for himself. His best friend, Niya is a Gold semidiós and a shoo-in for the Trials, and while he trusts her abilities, the odds of becoming the sacrifice is one-in-ten.
But then, for the first time in over a century, the impossible happens. Sol chooses not one, but two Jade competitors. Teo, and Xio, the thirteen-year-old child of the god of bad luck. Now they must compete in five trials against Gold opponents who are more powerful and better trained. Worst of all, Teo's annoyingly handsome ex-best friend and famous semidiós Hero, Aurelio is favored to win. Teo is determined to get himself and his friends through the trials unscathed--for fame, glory, and their own survival.
Target Age: 13 to 18
Reviews:
"Thomas's queernormative world and distinctly drawn cast deliver an upbeat fantasy teeming with captivating world building, earnest friendships, and electrifying adventure." --
Publishers Weekly
"Thomas unravels a plot that is as riveting as it is terrifying, as...Teo teams up with the other semidioses to save the world they all know and love, regardless of class difference. Fans of the Hunger Games and mythology will revel in this energetic, well-wrought adventure." -- Booklist

"The novel perfectly balances the vibrant, energetic Latinx culture while delving into heavy topics like LGBTQ+ acceptance, deportation, colonization, and racism within authoritative establishments." --TeenVogue.com
About the Author:
Aiden Thomas is a trans, Latinx, New York Times Bestselling Author with an MFA in Creative Writing from Mills College. Their works include Cemetery Boys and Lost in the Never Woods. Originally from Oakland, California, they now make their home in Portland, OR.