---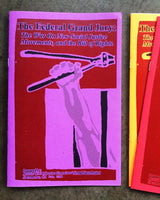 by The Activist Civil Liberties Committee/Grand Jury Project 
staple-bound booklet
SKU: n/a
This primer on federal grand juries used against social justice movements was prepared by the Activist Civil Liberties Committee/Grand Jury Project in Sacramento, California, in 1998. It provides a "Grand Jury Overview," sections on "Attacks Against Past Progressive Movements" and "Attacks Against Environmental/Animal Rights Movements," segments on "Government Collusion with Industry" and "Attacks on the News Media," as well as an introduction and conclusion.
Of note, there is a sub-section covering the grand jury resistance of Jonathan Paul who, years later, would be convicted under the FBI's "Operation Backfire," targeting the Earth Liberation Front and the Animal Liberation Front.
When the Earth Liberation Front Press Office first embarked on what would become a seven-year resistance to grand juries, the Activist Civil Liberties Committee faxed this document over, helping to enable members and allies of the Press Office to resist ten successfully served federal subpoenas.
This booklet is a great companion to Craig Rosebraugh's Grand Juries: Tools of Political Repression booklet. For more detailed information on grand juries, be sure to check out A Tilted Guide to Being a Defendant.