---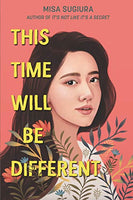 by Misa Sugiura
Harperteen
6/9/2020
SKU: 9780062473455
Katsuyamas never quit -- but seventeen-year-old CJ doesn't even know where to start. She's never lived up to her mom's type A ambition, and she's perfectly happy just helping her aunt, Hannah, at their family's flower shop. She doesn't buy into Hannah's romantic ideas about flowers and their hidden meanings, but when it comes to arranging the perfect bouquet, CJ discovers a knack she never knew she had. A skill she might even be proud of. Then her mom decides to sell the shop -- to the family who swindled CJ's grandparents when thousands of Japanese Americans were sent to internment camps during WWII. Soon a rift threatens to splinter CJ's family, friends, and their entire Northern California community; and for the first time, CJ has found something she wants to fight for.
Target age: 13 to 17
Reviews:
"Insightful. Intricate. Honest. With richly drawn characters that feel utterly real, Misa Sugiura reminds us that the past is always present, but that we hold the power to shape our future, if we're brave enough to face it." -- Samira Ahmed, author of Hollow Fires and Internment
"Sugiura tackles an abundance of topics with finesse, including social and economic injustice, allyship, and feminism, simultaneously breaking down the Asian-American immigration narrative and the myth of the model minority. Essential." -- Kirkus Reviews
"A gripping, emotionally charged story that presents a window into a uniquely Japanese American experience." -- School Library Journal
"One of the most authentic, steadfastly real teen characters I've read in recent memory. CJ deals with racism, familial strife, and finding herself with a charm and grace I couldn't get enough of. Her pitch-perfect voice leaped off the page and stayed with me. Highly, highly recommend." -- Sandhya Menon, author of When Dimple Met Rishi
About the Author:

Misa Sugiura's ancestors include a poet, a priestess, a samurai, and a stowaway. Her first novel, It's Not Like It's a Secret, was the winner of the Asian/Pacific American Award for YA Literature. Her second novel, This Time Will Be Different, was the HarperCollins Children's Books Lead Read. Misa lives under a giant oak tree in Silicon Valley with her husband, two sons, and three cats. Visit her online at www.misasugiura.com.