---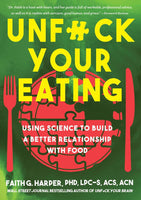 by Faith G. Harper
Microcosm
3/28/2023, paperback
SKU: 9781648410994
Food is complicated. And our relationships with food and eating are all kinds of fucked up. It doesn't help that cultural messages about health, diet, body image, and weight are fatphobic and often medically dangerous. Dr. Faith Harper, author of the bestselling Unfuck Your Brain and Unfuck Your Body, brings her trademark combination of science, humor, and real talk to help us work through our food, health, and body image issues and develop a healthier relationship with food so that it can fuel us and bring us pleasure. She delves into the difference between eating disorders and disordered eating and the causes and consequences of both, breaks down the difference between various behaviors, tackles trauma and other co-occurring conditions, and provides compassionate and practical steps to improve your eating habits and repair your relationship with yourself.
Part of the Five Minute Therapy Series.
About the Author:
Faith G. Harper, PhD, LPC-S, ACS, ACN is a bad-ass, funny lady with a PhD. She's a licensed professional counselor, board supervisor, certified sexologist, and applied clinical nutritionist with a private practice and consulting business in San Antonio, TX. She has been an adjunct professor and a TEDx presenter, and proudly identifies as a woman of color and uppity intersectional feminist. She is the author of the book Unf*ck Your Brain and many other popular zines and books on subjects such as anxiety, depression, and grief. She is available as a public speaker and for corporate and clinical trainings.