---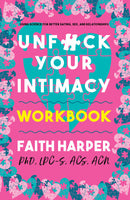 by Dr. Faith G.Harper
Microcosm Publishing
2/18/2019, paperback
SKU: 9781621068891
Developed as a companion to Dr. Faith Harper's Unfuck Your Intimacy book, this workbook can be used on its own or alongside the book as you read, by yourself or with a partner. It's an extremely useful aid for understanding your history, behavior, boundaries, needs, and wants, when it comes to sexual intimacy and relationships.
Let this handy workbook guide you on your quest for healthier relationships and more excellent sex. These exercises can also stand alone. Includes a ton of good stuff, like body maps, communication templates, boundary-setting exercises, a sexual history questionnaire like the ones therapists use, and of course help with understanding and coping with anything upsetting that might come up. Almost all the exercises can absolutely be done with a partner, but the focus is on getting to know your body, your desires, and your needs, to explore on your own or together.
Part of the Five Minute Therapy Series.
About the Author:
Faith G. Harper, PhD, LPC-S, ACS, ACN is a bad-ass, funny lady with a PhD. She's a licensed professional counselor, board supervisor, certified sexologist, and applied clinical nutritionist with a private practice and consulting business in San Antonio, TX. She has been an adjunct professor and a TEDx presenter, and proudly identifies as a woman of color and uppity intersectional feminist. She is the author of the book Unf*ck Your Brain and many other popular zines and books on subjects such as anxiety, depression, and grief. She is available as a public speaker and for corporate and clinical trainings.