---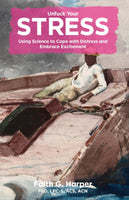 by Dr. Faith G. Harper
Microcosm Publishing
10/8/2021. staple bound
SKU: 9781648411601
Stressed? Yeah, you are. Capitalism pretty much demands it. But you don't deserve to feel like you're constantly being chased by your monstrous, growing list of responsibilities, or, worse, like you have to say no to positive opportunities because you just can't take another thing.
Dr. Faith offers here a brief intervention, explaining what stress actually is, how it isn't necessarily bad for you, and what exactly happens to your body when it gets out of hand. Symptoms of chronic stress and adrenal fatigue are paired with advice for talking with your doctor about what is going on with you. She follows this with some practical exercises for understanding and managing your own stress response, so that you can get yourself out of the quagmire of constant, mounting distress and feel excited and engaged with your life again.
This zine is an excerpt from Dr. Faith's book Unf*ck Your Body.   
Part of the Five Minute Therapy Series.
About the Author:
Faith G. Harper, PhD, LPC-S, ACS, ACN is a bad-ass, funny lady with a PhD. She's a licensed professional counselor, board supervisor, certified sexologist, and applied clinical nutritionist with a private practice and consulting business in San Antonio, TX. She has been an adjunct professor and a TEDx presenter, and proudly identifies as a woman of color and uppity intersectional feminist. She is the author of the book Unf*ck Your Brain and many other popular zines and books on subjects such as anxiety, depression, and grief. She is available as a public speaker and for corporate and clinical trainings.