---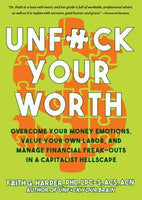 by Dr. Faith G. Harper, PhD, LPC-S, ACS, ACN
Microcosm Publishing
8/25/2020, paperback
SKU: 9781621064565
Resolve your emotional relationship with money
Untangle your emotions and expectations about money so that you can live your best financial life. Without fear and shame holding you back, it's more possible to move past all those social barriers to actualizing whatever your money aspirations are, whether that's getting a raise, getting out of debt, having honest conversations about money with your family, saving for the future, or wherever your values lead you. 
Dr. Faith, author of the bestselling Unf*ck Your Brain and Unf*ck Your Intimacy, tackles one of the toughest emotional topics there is with her trademark mix of neuroscience, gentle encouragement, and no-nonsense language. This book isn't about getting rich quick (or necessarily at all)—it's about figuring out your own economic values and baggage, and learning to be the person in the world you know you have it in you to be. 
Part of the Five Minute Therapy Series.
About the Author:
Faith G. Harper, PhD, LPC-S, ACS, ACN is a bad-ass, funny lady with a PhD. She's a licensed professional counselor, board supervisor, certified sexologist, and applied clinical nutritionist with a private practice and consulting business in San Antonio, TX. She has been an adjunct professor and a TEDx presenter, and proudly identifies as a woman of color and uppity intersectional feminist. She is the author of the book Unf*ck Your Brain and many other popular zines and books on subjects such as anxiety, depression, and grief. She is available as a public speaker and for corporate and clinical trainings.