---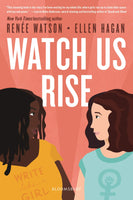 by Renée Watson and Ellen Hagan
Bloomsbury YA
2/11/2020, paperback
SKU: 9781547603114
Newbery Honor and Coretta Scott King Award-winning author Renée Watson teams up with poet Ellen Hagan in this YA feminist anthem about raising your voice.
Jasmine and Chelsea are best friends on a mission--they're sick of the way women are treated even at their progressive NYC high school, so they decide to start a Women's Rights Club. They post their work online--poems, essays, videos of Chelsea performing her poetry, and Jasmine's response to the racial microaggressions she experiences--and soon they go viral. But with such positive support, the club is also targeted by trolls. When things escalate in real life, the principal shuts the club down. Not willing to be silenced, Jasmine and Chelsea will risk everything for their voices--and those of other young women--to be heard.
These two dynamic, creative young women stand up and speak out in a novel that features their compelling art and poetry along with powerful personal journeys that will inspire readers and budding poets, feminists, and activists.
Target age: 13 and up
Reviews:
"This stunning book is the story I've been waiting for my whole life; where girls rise up to claim their space with joy and power. I resolve to give a copy to every teenager I know!" --Laurie Halse Anderson, New York Times bestselling and award-winning author of SPEAK and SHOUT
"An extraordinary story of two indomitable spirits, the power of friendship, and what leadership looks like in the hands of young people today, Watch Us Rise is the novel we all need right now." -- Brendan Kiely, New York Times bestselling co-author of ALL AMERICAN BOYS and TRADITION
About the Contributors:
Renée Watson is a New York Times bestselling author. Her novel, Piecing Me Together, received a Newbery Honor and Coretta Scott King Award. Her books include Some Places More Than Others, This Side of Home, What Momma Left Me, Betty Before X, cowritten with Ilyasah Shabazz, and Watch Us Rise, cowritten with Ellen Hagan, as well as two acclaimed picture books: A Place Where Hurricanes Happen and Harlem's Little Blackbird, which was nominated for an NAACP Image Award. Renée lives in New York City.
Ellen Hagan is a writer, performer, and educator. Her poetry collections include Hemisphere and Crowned. Her work can be found in ESPN Magazine, She Walks in Beauty, and Southern Sin. Ellen is the Director of the Poetry & Theatre Departments at the DreamYard Project and directs their International Poetry Exchange Program with Japan, South Korea and the Philippines. She co-leads the Alice Hoffman Young Writer's Retreat at Adelphi University.