---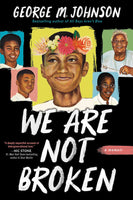 by George M. Johnson
Little, Brown Books for Young
9/7/2021
SKU: 9780759554603
This is a memoir of George's boyhood in New Jersey, growing up with their brother and two cousins, all under the supervision of their larger-than-life grandmother.
This is the vibrant story of George, Garrett, Rall, and Rasul -- four children raised by Nanny, their fiercely devoted grandmother. The boys hold each other close through early brushes with racism, memorable experiences at the family barbershop, and first loves and losses. And with Nanny at their center, they are never broken.
George M. Johnson captures the unique experience of growing up as a Black boy in America through rich family stories that explore themes of vulnerability, sacrifice, and culture.
Complete with touching letters from the grandchildren to their beloved matriarch and a full color photo insert, this heartwarming and heartbreaking memoir is destined to become a modern classic of emerging adulthood.
Target age: 14 to 17
Reviews:
"A deeply impactful account of of intergenerational love." -- Nic Stone, author of Dear Martin
"George M. Johnson has done it again -- they have written a beautiful book that will take up a honey-sweet and sun-warmed residence in my soul for a long time to come. We Are Not Broken is a gorgeous love letter to Black matriarchs who give everything to love, care for and protect their children. It's about the importance of family and the unbreakable bonds that supersede blood and last far longer than a lifetime. While society constantly villifies Black boys before they can even reach puberty, We Are Not Broken shares stories about how love, care and the freedom to be soft and vulnerable can be not only healing, but life-changing." -- Aiden Thomas, author of Cemetery Boys
"Love--deep, soulful, clarifying love--shines in George M. Johnson's writing like sunlight passing through a church's stained-glass windows. Their storytelling and the mission that propels the telling is always right on time." -- Saeed Jones, author of How We Fight For Our Lives
About the Author:
George M. Johnson is an award winning Black nonbinary writer, author, and activist based in the New York City area and the author of memoirs We Are Not Broken and New York Times bestseller All Boys Aren't Blue. They have written on race, gender, sex, and culture for Essence, the Advocate, BuzzFeed News, Teen Vogue, and more than forty other national publications. They invite you to visit them online at iamgmjohnson.com and on Twitter @IamGMJohnson.