---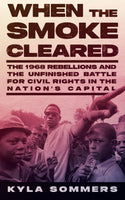 by Kyla Sommers
The New Press
4/25/2023, hardcover
SKU: 9781620977477
Echoing James Forman Jr.'s Locking Up Our Own, a riveting story of race, civil rights, and rebellion in Washington, DC
In April 1968, following the murder of Martin Luther King Jr., a wave of uprisings swept across America. None was more visible--or resulted in more property damage, arrests, or federal troop involvement--than in Washington, DC, where thousands took to the streets in protest against racial inequality, looting and burning businesses in the process. The nation's capital was shaken to its foundations.
When the Smoke Cleared tells the story of the Washingtonians who seized the moment to rebuild a more just society, one that would protect and foster Black political and economic power. A riveting account of activism, urban reimagination, and political transformation, Kyla Sommers's revealing and deeply researched narrative is ultimately a tale of blowback, as the Nixon administration and its allies in Congress thwarted the ambitions of DC's reformers, opposing civil rights reforms and self-governance. And nationwide, conservative politicians used the specter of crime in the capital to roll back the civil rights movement and create the modern carceral state.
A vital chapter in the struggle for racial equality, When the Smoke Cleared is an account of open wounds, paths not taken, and their unforeseen consequences--revealed here in all of their contemporary significance.

Reviews:
"Doggedly researched and lucidly presented, this is a valuable case study for activists and policymakers." -- Publishers Weekly
"A vigorous history of the 1968 riots in Washington, DC, and their long-lasting effects... A valuable contribution to the literature of urban affairs and its intersection with social justice." -- Kirkus Reviews
 "With lucid, compelling prose, Kyla Sommers challenges the reductive, conventional narrative around the 1968 rebellions in DC and draws out the contemporary stakes. By illuminating what was and what could have been in a political juncture with striking resonances to our own, When the Smoke Cleared stokes the embers of our political imaginations." -- Michael Eric Dyson, distinguished university professor of African American and diaspora studies at Vanderbilt University and author of Tears We Cannot Stop
"There's no wonder this history of DC--defined not by 'urban blight, ' but by community organizing and practical dreams of liberation--has been so buried, for its lessons extend well beyond the Potomac. This is history from below in its finest form. Sommers honors the buried and forgotten heroes as effortlessly as she holds up their work to a modern light." -- Dave Zirin, sports editor for The Nation and author of The Kaepernick Effect
About the Author:
Kyla Sommers earned her PhD in history from the George Washington University. Her writing has appeared in the Washington Post, the Washington History journal, and the book Demand the Impossible: Essays in History as Activism. Sommers is the digital engagement editor at American Oversight and was previously the editor-in-chief of the History News Network. The author of When the Smoke Cleared, she lives in Washington, DC.