---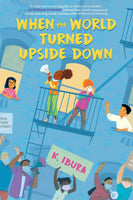 by K. Ibura
Scholastic Press
02/01/2022, paperback
SKU: 9781338746266
What do you do when the world shuts down? Nobody expected a tiny little virus to change the whole world in such a big way, especially not Shayla, Liam, Ai, and Ben. But when school closes to keep everyone safe, their lives turn upside down. It is one thing to learn that the outside world isn't safe, but why does it seem that the virus is causing trouble inside their homes too? As each friend struggles to adjust to life in quarantine, they discover they are not alone: their apartment building is full of people who need their help. Working together, they begin to see that there is power in numbers. When they cooperate, they can ease each other's challenges and help their neighbors through tough times. It's a lesson they'll need when protests explode in the streets. Soon, each friend has to decide what it means to be part of a community--and how much they're willing to do to make this world safer for everyone. Set against the onset of COVID, When the World Turned Upside Down navigates issues of race and social justice in a heartwarming story of generosity, friendship, and the power of youth.
Target age: 8-12
Reviews:
"As clear-eyed as it is engaging, as timely as it is timeless. I fell in love with every single student in this book. And days after reading it, each of them remains with me." -- Jacqueline Woodson, National Book Award-winning author of Brown Girl Dreaming
"A timely and accessible look at the pandemic that will appeal to readers of realistic fiction and fans of Jewell Parker Rhodes and Kelly Yang." -- School Library Connection
About the Author:
K. Ibura was born as the middle child in a family of seven (five kids plus parents!) in New Orleans, Louisiana. When they weren't disagreeing about everything, K. Ibura and her siblings played competitive rounds of jacks and a card game called Crazy Eights. They also built insane obstacle courses throughout the house involving stacked chairs, sheets, and timers. Her parents were independent thinkers who filled the home with music, culture, and strong principles. Today, she lives in Brooklyn, where she makes art, writes, and does puzzles while her daughter cheers her on.