---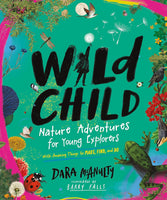 by Dana McAnulty, Illustrated by Barry Falls
Experiment
5/23/2023, hardcover
SKU: 9781615199167
A standout among nature books for children , Wild Child is a "dreamy dive into the natural world" (The Guardian) from award-winning author Dara McAnulty, "a young naturalist who inspires with joy" (The New York Times)
Nature is all around us to see, hear, and touch--in the leafy woods, by the sparkling water, or simply out the window. What will you discover? A chattering jay hiding an acorn, a butterfly with camouflaged wings? Perhaps a brilliant red feather you'll carry home and tie to your journey stick, to remember.
Lavishly illustrated by Barry Falls, this oversize book invites children outdoors on every kind of adventure, from counting the species in an oak tree to searching the riverbed for aquatic dragonfly nymphs. With wonder and poetry, color and curiosity, Wild Child will stir the hearts of readers young and old alike.
Explore the garden, woods, meadow, and other nearby habitats
Read all about the wonders of nature, from migration to metamorphosis
Make your own bird feeder, terrarium, and more fun nature crafts
Spot local creatures--from chickadees to caddisflies--and learn what makes them special!
Publisher's note: This US edition of Wild Child is revised to feature plants and animals found in North America.
Target age: 7 to 11
Reviews:
"McAnulty, 17, is fast becoming one of Britain and Ireland's most acclaimed nature writers for work that is brimming with his passion as well as open about his autism." --The New York Times
"Wild Child is... full of carefully observed insights into the natural world." -- Irish Independent 
About the Author:
Dara McAnulty is an award-winning author, naturalist, and activist from Northern Ireland. His first book, Diary of a Young Naturalist, won the 2020 Wainwright Prize for Nature Writing, the An Post Irish Book Award for Newcomer of the Year 2020, the Books Are My Bag Readers Award for Non-Fiction 2020, and was shortlisted for the Waterstones Book of the Year. An ambassador for the Royal Society for the Prevention of Cruelty to Animals (RSPCA) and the Jane Goodall Institute, Dara has also received many awards for his conservation work, including from BBC's Springwatch, Daily Mirror, and Birdwatch magazine. He is the youngest-ever recipient of the Royal Society for the Protection of Birds (RSPB) medal for conservation. Dara lives with his family and Rosie the rescue greyhound at the foot of the Mourne Mountains in County Down.
Barry Falls grew up in rural Northern Ireland, where he spent a lot of time drawing pictures and writing stories to go with them. He is a commercial illustrator who has received multiple awards for his work with clients such as The New York Times, American Airlines, and The Telegraph. He has written and illustrated two other books for children, It's Your World Now! and Alone!