---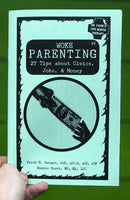 by Faith G. Harper and Bonnie Scott
Microcosm Publishing
10/10/2018, paperback
SKU: 9781621066491
How do you raise the young people in your life up into good citizens? Microcosm Publishing bestseller Dr. Faith and Bonnie Scott tackle this intense question by breaking it down into helpful lists. They provide skills and ideas for teaching any age how to take responsible civic action, from protest to advocacy to voting. It's important to find meaningful work and do it well, and how to handle money in an increasingly complicated economy, so learn how to teach kids early on.
Part of the Five Minute Therapy Series.
About the Author:
Faith G. Harper, PhD, LPC-S, ACS, ACN is a bad-ass, funny lady with a PhD. She's a licensed professional counselor, board supervisor, certified sexologist, and applied clinical nutritionist with a private practice and consulting business in San Antonio, TX. She has been an adjunct professor and a TEDx presenter, and proudly identifies as a woman of color and uppity intersectional feminist. She is the author of the book Unf*ck Your Brain and many other popular zines and books on subjects such as anxiety, depression, and grief. She is available as a public speaker and for corporate and clinical trainings.