---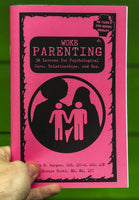 by Faith G. Harper and Bonnie Scott
Microcosm Publishing
10/10/2018, paperback
SKU: 9781621067849
Maybe you've been dreading having "the talk" about sex with your kids or future kids or niblings? The Microcosm Publishing bestseller Dr. Faith and Bonnie Scott have some advice based on adundant experience with these talks! In listed form, this zine covers not just about the mechanics of sex, but rather the important topics that need to come before it: boundaries, consent, masturbation, communication, a good sense of yourself and your role in the relationship. If you start talking about sex and consent at a young age and in an age-appropriate way (and never stop), then you won't have to dread "the talk" and hopefully you'll help create a mindful, considerate adult.
Part of the Five Minute Therapy Series.
About the Author:
Faith G. Harper, PhD, LPC-S, ACS, ACN is a bad-ass, funny lady with a PhD. She's a licensed professional counselor, board supervisor, certified sexologist, and applied clinical nutritionist with a private practice and consulting business in San Antonio, TX. She has been an adjunct professor and a TEDx presenter, and proudly identifies as a woman of color and uppity intersectional feminist. She is the author of the book Unf*ck Your Brain and many other popular zines and books on subjects such as anxiety, depression, and grief. She is available as a public speaker and for corporate and clinical trainings.