---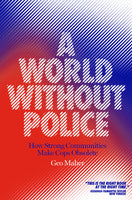 by Geo Maher
Verso Books
8/24/2021, hardcover
SKU: 9781839760051
If police are the problem, what's the solution?
Tens of millions of people poured onto the streets for Black Lives Matter, bringing with them a wholly new idea of public safety, common security, and the delivery of justice, communicating that vision in the fiery vernacular of riot, rebellion, and protest. A World Without Police transcribes these new ideas--written in slogans and chants, over occupied bridges and hastily assembled barricades--into a compelling, must-read manifesto for police abolition.
Compellingly argued and lyrically charged, A World Without Police offers concrete strategies for confronting and breaking police power, as a first step toward building community alternatives that make the police obsolete. Surveying the post-protest landscape in Minneapolis, Philadelphia, Chicago, and Oakland, as well as the people who have experimented with policing alternatives at a mass scale in Latin America, Maher details the institutions we can count on to deliver security without the disorganizing interventions of cops: neighborhood response networks, community-based restorative justice practices, democratically organized self-defense projects, and well-resourced social services.
A World Without Police argues that abolition is not a distant dream or an unreachable horizon but an attainable reality. In communities around the world, we are beginning to glimpse a real, lasting justice in which we keep us safe.
Reviews:
"Geo rips away the band-aid of liberal police reform to expose the open wound of racism, colonialism, and economic exploitation at the heart of capitalism and its police and shows us that healing that wound will require deep global transformations rooted in community empowerment." -- Alex Vitale, author of End of Policing
"From the ashes of the Third Precinct, Geo Maher looks for what grows when the deadly shadow of the police is removed. He writes an urgent history of the present. The ingredients of white supremacy, colonialism, and capitalism are baked into the cake called America, especially the institution of the police. You can't unbake that cake. Maher contends creating a world without police is not only possible, but necessary." -- Nick Estes, author of Our History Is the Future
"Grounded in a powerful narrative of the massive 2020 Black Lives Matter led protests of a police murder in Minneapolis that enveloped the world, scholar-activist Geo Maher moves to and from the historical roots of policing in the institutions of slave patrols, border guards, settler colonialism, and capitalism. This is a book that readers will want to carry around, returning to passages for inspiration." -- Roxanne Dunbar-Ortiz, author of An Indigenous People's History of the United States
About the Author:
Geo Maher has previously taught at Vassar College, San Quentin State Prison, and the Venezuelan School of Planning in Caracas. He is the author of five books, including We Created Chavez, Decolonizing Dialectics, Building the Commune, Spirals of Revolt, and World Without Police.