---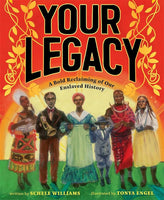 by Schele Williams, Illustrated by Tonya Engel
Harry N. Abrams
9/28/2021, hardcover
SKU: 9781419748752
Your Legacy is a proud, empowering picture book introduction to African American history that celebrates and honors enslaved ancestors from author Schele Williams and illustrator Tonya Engel.
Your story begins in Africa.
Your African ancestors defied the odds and survived 400 years of slavery in America and passed down an extraordinary legacy to you.
Beginning in Africa before 1619, Your Legacy presents an unprecedentedly accessible, empowering, and proud introduction to African American history for children. While your ancestors' freedom was taken from them, their spirit was not; this book celebrates their accomplishments, acknowledges their sacrifices, and defines how they are remembered--and how their stories should be taught.
Reviews:
"A lovingly written, beautifully illustrated and stunningly timely book." -- Jacqueline Woodson, National Book Award-winning author of Brown Girl Dreaming, MacArthur Fellow
"This thoughtful, sensitive, and beautiful volume, families can begin a difficult conversation in a nurturing way. This is a must for every Black child growing up in the Americas and will help other races and ages too... A truly powerful perspective shift." -- Kirkus Reviews, starred review
"A strikingly worthy introduction of 400 years of Black history to young readers, including the roots of American slavery, effectively conveying that slavery is far from the extent of Black history and influence." -- Publishers Weekly, starred review

About the Contributors:
Schele Williams is a director committed to cultivating new musicals and devised work with authentic representation. She is directing the Broadway revivals of Aida (Disney Theatrical Group) and The Wiz, as well as the premieres of Mandela the Musical and Indigo. She is helming the Disney Theatrical Group's Hidden Figures. Williams has directed at regional theaters and festivals across the country and has a long history of work on Broadway in Rent, Aida, and Motown: The Musical. Passionate about pairing social justice with the arts, Williams is a founding member of Black Theatre United, an organization committed to dismantling systemic racism on our streets and stages. She has been a member of Broadway Inspirational Voices for over two decades and serves as chairperson of the board. She is also on the board of trustees for Broadway Cares/Equity Fights AIDS.
Tonya Engel is a self-taught artist living in Houston, Texas. Folk artists of the Deep South have influenced her work, as well as contemporary masters such as Marc Chagall, Frida Kahlo, Romare Bearden, and Gustav Klimt. Her bold style is figurative, textured, colorful, and ripe with symbolism. Engel made a spectacular debut in children's publishing with her illustrations in Rise!: From Caged Bird to Poet of the People, Maya Angelou, written by Bethany Hegedus and published by Lee & Low Books in 2019, and the recently published My Hair Is Magic! by M.L. Marroquin.