---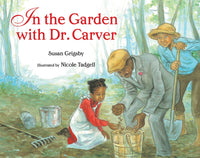 by Susan Grigsby, illustrated by Nicole Tadgell
Albert Whitman and Company
09/15/2021, paperback
SKU: 9780807536476
Sally is a young girl living in rural Alabama in the early 1900s, a time when people were struggling to grow food in soil that had been depleted by years of cotton production. One day, Dr. George Washington Carver shows up to help the grown-ups with their farms and the children with their school garden. He teaches them how to restore the soil and respect the balance of nature. He even prepares a delicious lunch made of plants, including "chicken" made from peanuts. And Sally never forgets the lessons this wise man leaves in her heart and mind. Susan Grigsby's warm story shines new light on a Black scientist who was ahead of his time.
Target age: 5-8
Reviews:
"Tadgell's watercolors add both playful side business and accurate botanical illustration to this admiring child's account of the famous scientist's stopover in a rural community... Though fictionalized, the encounter presents Carver's work and ideas in a simple, engaging way that will stay with young readers." -- Kirkus Reviews
"The watercolor illustrations include many humorous asides of children acting like children -- making horrified faces as they taste Dr. Carver's menu of 'chicken' made from peanuts and wild-weed salad, or being silly with friends when they are supposed to be listening. Scientific and historical information is well-presented through the gentle text and lighthearted illustrations. Teachers will find many uses for this appealing book." -- School Library Journal
About the Contributors:
Susan Grigsby is a children's book author. She lives in Missouri with her husband.
Nicole Tadgell is the award-winning illustrator of more than twenty picture books, including Legacy and Real Sisters Pretend. When she's not drawing, Nicole enjoys practicing Tai Chi and watching Doctor Who.