---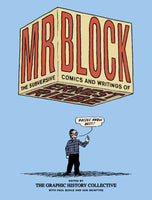 Edited by The Graphic History Collective, Paul Buhle, and Iain McIntyre
PM Press
8/1/2023, paperback
SKU:  9798887440019 
Before the Golden Age of comic books, there was Mr. Block: a bumbling, boss-loving, anti-union blockhead, brought to life over a hundred years ago by subversive cartoonist Ernest Riebe.
A dedicated labour activist and member of the Industrial Workers of the World, Riebe dreamed up his iconic, union-hating anti-hero to satirize conservative workers' faith in the capitalist system that exploits them. This wickedly funny anthology of Riebe's writings and comics is a treasure trove of radical 20th-century art and an essential addition to the bookshelves of comics lovers, historians, and labour activists alike.
As income inequality skyrockets and the collective power of the working class is undermined, the lessons from Mr. Block's misadventures and misbeliefs are as relevant today as ever. Building the new world from the ashes of the old demands many tools--and laughter will always be one of them.
Reviews:
"As we take pleasure from the spare look and wicked humor of these send-ups of the retrograde worker and the even more retrograde institutions that ensnare him, how they teach deserves attention too. We need to learn the lessons regarding church, state, and boss that Mr. Block refused. Equally, we need to think about how the artist skewers the destructive actions and beliefs of fellow workers without letting their rulers off the hook. Study and chuckle." -- David Roediger, University of Kansas, author of The Wages of Whiteness: Race and the Making of the American Working Class
"When it comes to getting schooled and laughing along the way, there's nothing like the satirical comics of Wobbly Ernest Riebe. His legendary Mr. Block series comes back to life in this funny, smart, and timely new collection." -- Peter Cole, author of Ben Fletcher: The Life and Times of a Black Wobbly
"Ernest Riebe's Mr. Block was one of the first radical comic strips, and it remains one of the best. This book is a treasure for activists, historians, and comic enthusiasts alike!" -- Kenyon Zimmer, co-editor of Wobblies of the World: A Global History of the IWW
About to Contributors:
The Graphic History Collective is a group of activists, artists, writers, and researchers interested in comics, history, and social change. They produce history projects in accessible formats to help people understand the roots of contemporary social issues. Their projects show that you don't need a cape and a pair of tights to change the world.
Paul Buhle, a labor historian of 1960s vintage, published Radical America Komics in 1969. After an explicable lapse of 35 years, he has produced, since 2005, a number of non-fiction comics, including Wobblies! A Graphic History. He lives in Rhode Island.
Iain McIntyre is a Melbourne-based historian, musician, and community radio broadcaster who has written a variety of books about activism, culture, and music. Recent publications include Dangerous Visions and New Worlds: Radical Science Fiction, 1950 to 1986; Environmental Blockades: Obstructive Direct Action and the History of the Environmental Movement; and On The Fly!: Hobo Literature and Songs, 1879-1941.