---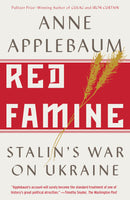 by Anne Applebaum
Anchor Books
9/1/2018
SKU: 9780804170888
In 1929, Stalin launched his policy of agricultural collectivization--in effect a second Russian revolution--which forced millions of peasants off their land and onto collective farms. The result was a catastrophic famine, the most lethal in European history. At least five million people died between 1931 and 1933 in the USSR. But instead of sending relief the Soviet state made use of the catastrophe to rid itself of a political problem. In Red Famine, Anne Applebaum argues that more than three million of those dead were Ukrainians who perished not because they were accidental victims of a bad policy but because the state deliberately set out to kill them. Devastating and definitive, Red Famine captures the horror of ordinary people struggling to survive extraordinary evil.
Applebaum's compulsively readable narrative recalls one of the worst crimes of the twentieth century, and shows how it may foreshadow a new threat to the political order in the twenty-first.
Reviews:
"Chilling, dramatic... In her detailed, well-rendered narrative, Applebaum provides a 'crucial backstory' for understanding current relations between Russia and Ukraine. An authoritative history of national strife from a highly knowledgeable guide." -- Kirkus Reviews
"Applebaum's account will surely become the standard treatment of one of history's great political atrocities. . . . She re-creates a pastoral world so we can view its destruction. And she rightly insists that the deliberate starvation of the Ukrainian peasants was part of a larger [Soviet] policy against the Ukrainian nation. . . . To be sure, Russia is not the Soviet Union, and Russians of today can decide whether they wish to accept a Stalinist version of the past. But to have that choice, they need a sense of the history. This is one more reason to be grateful for this remarkable book."-- Timothy Snyder, author of On Tyranny Graphic Edition: Twenty Lessons from the Twentieth Century.
"A magisterial and heartbreaking history of Stalin's Ukrainian famine." -- Simon Sebag Montefiore, London Evening Standard
About the Author:
Anne Applebaum is a columnist for The Washington Post, a Professor of Practice at the London School of Economics, and a contributor to The New York Review of Books. Her previous books include Iron Curtain, winner of the Cundill Prize and a finalist for the National Book Award, and Gulag, winner of the Pulitzer Prize for Nonfiction and a finalist for three other major prizes. She lives in Poland with her husband, Radek Sikorski, a Polish politician, and their two children.