---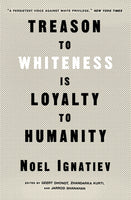 by Noel Ignatiev, foreword by David Rodiger, afterword by John Garvey; edited by Geert Dhont, Zahandarka Kurti, and Jarrod Shanahan
Verso
06/28/2022, paperback
SKU: 9781839765018
A new collection of essays from the bomb-throwing intellectual who described the historical origins and evolution of whiteness and white supremacy, and taught us how we might destroy it.
For sixty years, Noel Ignatiev provided an unflinching account of "whiteness" -- a social fiction and an unmitigated disaster for all working-class people. This new essay collection from the late firebrand covers the breadth of his life and insights as an autodidact steel worker, a groundbreaking theoretician, and a bitter enemy of racists everywhere.
In these essays, Ignatiev confronts the Weather Underground and recounts which strategies proved most effective to winning white workers in Gary, Indiana, to black liberation. He discovers the prescient political insights of the nineteenth-century abolition movement, surveys the wreckage of the revolutionary twentieth century with C.L.R. James, and attends to the thorny and contradictory nature of working-class consciousness. Through it all, our attentions are turned to the everyday life of "ordinary" people, whose actions anticipate a wholly new society they have not yet recognized or named.
In short, Ignatiev reflects on the incisive questions of his time and ours: How can we drive back the forces of racism in society? How can the so-called "white" working class be won over to emancipatory politics? How can we build a new human community?
Reviews:
"This book is the gift of a life well-lived--as steelworker, scholar, race traitor, and fierce anti-racist. Noel Ignatiev had a singular and memorable voice, here preserved for posterity. We will need his ideas and example moving forward." -- Marcus Rediker, author of The Fearless Benjamin Lay and The Many-Headed Hydra (with Peter Linebaugh)
"This collection of Noel Ignatiev's writings over the past six decades could not come at a more important time in the struggle against white supremacy; they are as pertinent today as they were when they were written." -- Roxanne Dunbar-Ortiz, author of An Indigenous Peoples' History of the United States and Not a Nation of Immigrants
About the Contributors:
Noel Ignatiev was born in Philadelphia, the son of two Russian-Jewish immigrants. He was a life long revolutionary, a long-time steel worker in Gary, Indiana, the author of How the Irish Became White, and co-editor of the journal Race Traitor, an anthology from which won an American Book Award. He spent years debating in the Students for a Democratic Society, where he coined the term "white skin privilege" before going on to agitate on the factory floor for twenty years with the Sojourner Truth Organization. Later, he became an unlikely Harvard PhD grad, a renowned historian, and an untempered firebrand on the main political and cultural issues of our time.
David Roediger is the Foundation Distinguished Professor of American Studies and History at Kansas University. Among his books are Our Own Time: A History of American Labor and the Working Day (with Philip S. Foner); How Race Survived US History: From Settlement and Slavery to the Obama Phenomenon; and The Wages of Whiteness: Race and the Making of the American Working Class.
John Garvey works in the Office of Academic Affairs at City University of New York. Together they are the founders and editors of Race Traitor: A Journal of the New Abolitionism.
Jarrod Shanahan is a writer, activist, and educator based in Chicago. He works as an Assistant Professor of Criminal Justice at Governors State University in University Park, Illinois, and is the author of Captives: How Rikers Island Took New York City Hostage, coauthor of States of Incarceration: Rebellion, Reform, and the Future of America's Punishment System; a co-editor of Treason to Whiteness Is Loyalty to Humanity, a Noel Ignatiev reader; and an editor of Hard Crackers: Chronicles of Everyday Life.