---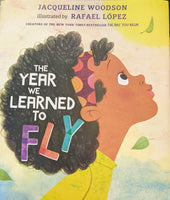 by Jacqueline Woodson, illustrated by Rafael López
Nancy Paulsen Books
01/04/2022, hardcover
SKU: 9780399545535
On a dreary, stuck-inside kind of day, a brother and sister heed their grandmother's advice: "Use those beautiful and brilliant minds of yours. Lift your arms, close your eyes, take a deep breath, and believe in a thing. Somebody somewhere at some point was just as bored you are now." And before they know it, their imaginations lift them up and out of their boredom. Then, on a day full of quarrels, it's time for a trip outside their minds again, and they are able to leave their anger behind. This precious skill, their grandmother tells them, harkens back to the days long before they were born, when their ancestors showed the world the strength and resilience of their beautiful and brilliant minds. Jacqueline Woodson's lyrical text and Rafael Lopez's dazzling art celebrate the extraordinary ability to lift ourselves up and imagine a better world.
Target age: 5 to 8
Reviews:
"Two Black siblings use their imaginations to escape their immediate surroundings throughout the seasons in this picture book by previous collaborators Woodson and López (The Day You Begin)... Learning to soar 'from the people who came before,' the children are told both that their feelings have been experienced by others, and that "nobody can ever cuff/your brilliant and beautiful mind," a lesson they pass on in turn. Energetic layered multimedia illustrations accompany the poetically repeating lines, vividly depicting winged escapes over images of a slave ship and contemporary real-world high-rises." -- Publishers Weekly
"Woodson and López are thankfully, and marvelously, back together... Honoring echoes of the past (masterfully captured in both text and art) with an eye set on the possibilities of the future, this uplifting and honest reflection of the experiences of many children is a perfect example of the power of the picture book. It helps children, through words and art, to be seen and also challenges them to embrace their own power and agency. The many layers of both art and language will provide fodder for rich classroom discussions... A must for any collection, and an outstanding example of the picture book as an artistic and literary form." -- School Library Journal
About the Contributors:

Jacqueline Woodson received a 2020 MacArthur Fellowship, the 2020 Hans Christian Andersen Award, the 2018 Astrid Lindgren Memorial Award, and the 2018 Children's Literature Legacy Award, and was the 2018-2019 National Ambassador for Young People's Literature. Her New York Times bestselling memoir, Brown Girl Dreaming, won the National Book Award, the Coretta Scott King Award, a Newbery Honor, and the NAACP Image Award. Her books for young readers include Coretta Scott King Award and NAACP Image Award winner Before the Ever After, New York Times bestsellers The Day You Begin and Harbor Me, Newbery Honor winners Feathers, Show Way, and After Tupac and D Foster, and Each Kindness, which won the Jane Addams Children's Book Award.
Rafael López illustrated New York Times bestseller Just Ask! (by Supreme Court Justice Sonia Sotomayor). He won Pura Belpré medals for Drum Dream Girl and Book Fiesta, and has also received three Pura Belpré honors, two Américas Book Awards, and the 2017 Tomás Rivera Children's Book Award and Society of Illustrators Original Art Silver Medal. His work has been featured in Communication Arts, American Illustration Annual, Graphic Design USA and Huffington Post. He's a founder of San Diego's Urban Art Trail movement, created seven US Postal Stamps, and created official posters for the '08 and '12 Obama-Biden campaigns.